Although not domestic pets, there can be no denying the pleasure of seeing wildbirds visting your garden throughout the year.
At The Pet Food Shop we have one of the largest ranges of wildbird seeds, food and treats for miles around. We weigh up smaller quantities (from 500g) and also have bulk sacks, you will find our prices extremely competitive, saving up to 50% compared with some garden centres and Pet Superstores
see our price check.
Johnston & Jeff Selected Wild Bird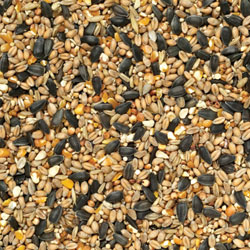 BEST SELLER
An all year round seed blend with a higher proportion of black oil sunflowerseeds to ensure correct nutritional values. Contains small seeds as well as cereals plus vegetable oil to increase feeding values. Can be fed from hanging feeders and from a table.
Contains:
black sunflower, red dari, natural groats, millet, cut maize, wheat, various small seeds, vegetable oil.
Pack sizes:
Available weighed out as 500g, 1kg, 3kg, 20kg.
Copdock Mill No Mess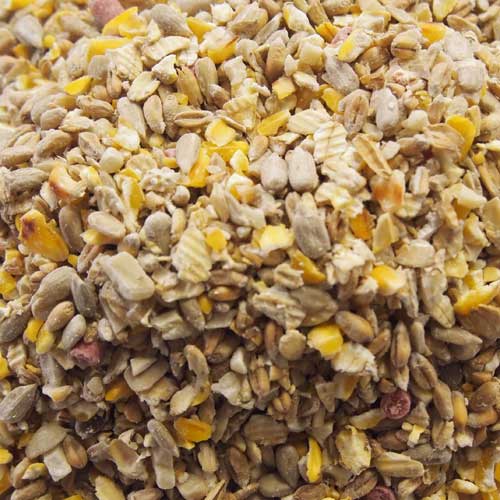 A super premium seed mix with the addition of energy rich fruit and berry suet pellets. The husk free mix is 100% edible, resulting in no mess left under the feeder, etc. Suitable for feeding all year round, this attractive looking mix will appeal to a wide variety of birds. Fledgling safe. The free flowing mix can be fed from a feeder, bird table or on the ground.
Contains:
Sunflower Hearts, Cut Maize, Peanut Granules, Suet Pellets, Raisins and Soya Oil.
Pack sizes:
Available weighed out 500g, 1kg, 3kg, 12kg and 20kg sack.
BestPets Robin & Songbird Mix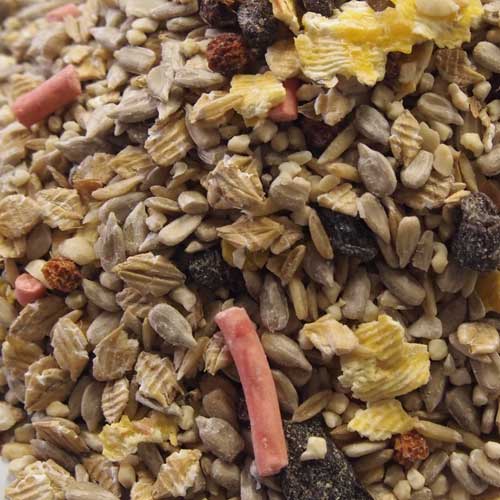 A softer food mix. ideal for feeding from the ground. Containing fruits and berries, sunflowers hearts and peanuts. Appeals to a variety of songbirds. High energy all season mix. Should be offered on the ground or a bird table. This formulation is not suitable for use in seed feeders.
Contains:
Pinhead Oatmeal, kibbled maize, red millet, sunflower hearts, kibbled peanuts and mealworms.
Pack sizes:
Available weighed out 500g, 1kg, 3kg and 15kg sack
Peanuts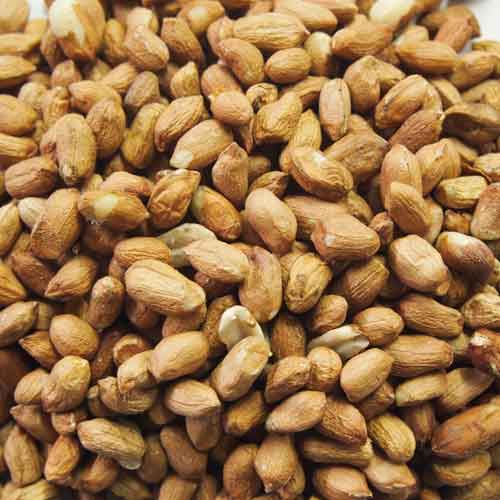 BEST SELLER
Suitable for Blue Tits, Finches, Bramblings, Bullfinch, Great Tit, Greenfinch Sparrow, Nuthatch, Buntings, Siskins, Song Thrush and Starling.
Please only feed whole peanuts from wire mesh feeders as fledglings and smaller birds can choke on them.
Pack sizes:
available weighed out 500g, 1kg, 3kg, also 13kg and 25kg sack
Peanut Granules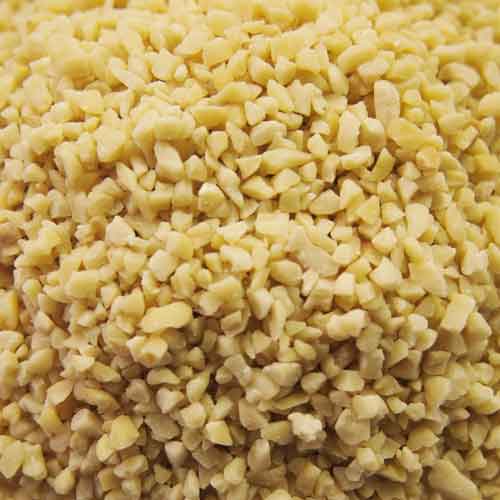 Peanut Granules are especially good for fledglings as they are high in energy and of manageable size and liked by all birds.
Pack sizes:
weighed out 500g, 1kg, 3kg and 15kg sack
Sunflower Hearts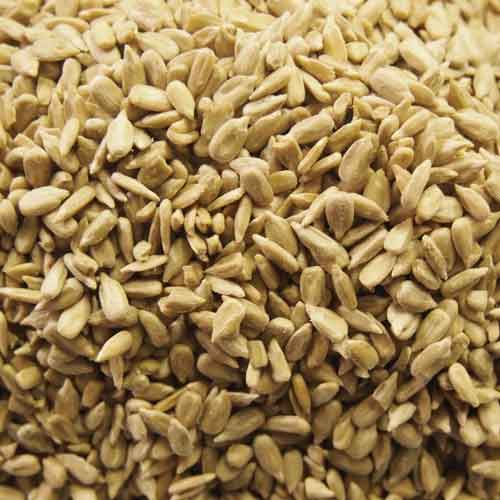 BEST SELLER
Packed with oils and protein-providing maximum sustenance, 100% edible-no waste, appeals to a wide variety of birds, suitable for all year round
Pack sizes:
weighed out 500g, 1kg, 3kg and also 13kg & 22.68kg sack
Black Sunflower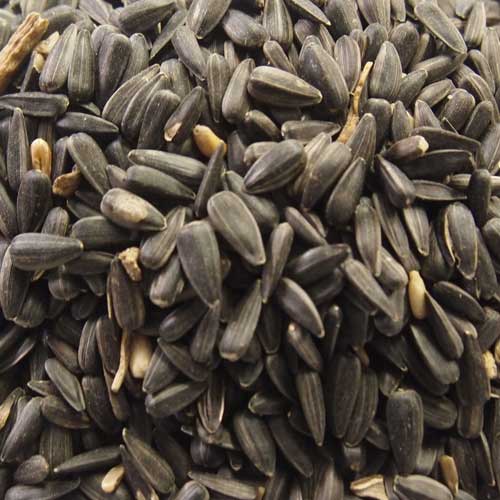 A popular and economical food, packed with energy giving oils, will bring BlueTits, Finches, Bramblings, Dunnocks, Sparrows, Linnet, Nuthatch, Siskin and Yellow Hammer. Suitable for feeding all year round.
Pack sizes:
weighed out 500g, 1kg, 3kg and also 12.75kg sack
Niger Seed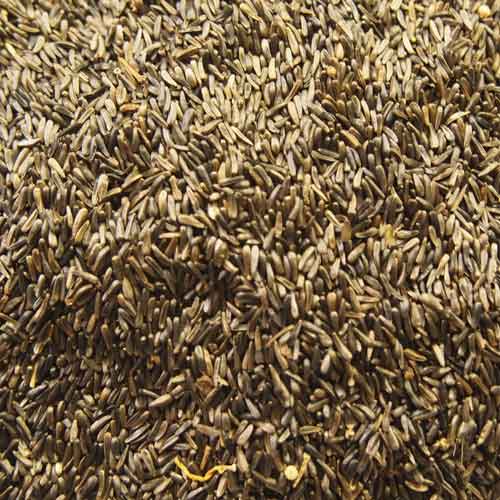 A highly nutritious, highenergy, oil rich seed,Niger Seed is suitable for Tits, Finches and Siskins, because it is a small light seed you will need a special feeder for this. Suitable for feeding all year round.
Pack sizes:
weighed out 500g, 1kg, 3kg and also 25kg sack
Suet Pellets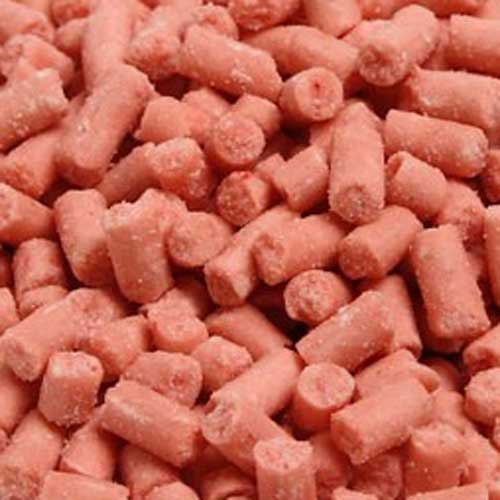 A popular and economical food, high in energy and easily digested, they will attract most birds and wrens and woodpeckers will visit. Particularly beneficial during the winter months whenbirds need to maintain fat levels, as well as during the breeding season when they are busy raising young. Can be fed from peanut feeders, or from dedicated suet feeders.
Pack sizes:
550g, 3kg and 12.75kg.
Robin and Softbill Food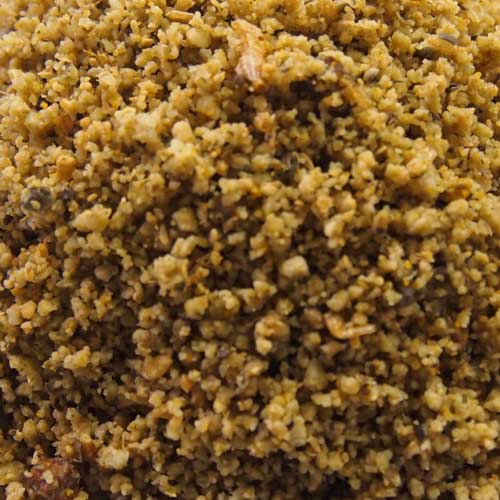 It's a complete diet for insect and fruit eating species, it has trace elements and minerals, together with honey., blackbirds and thrushes love it too!
Pack sizes:
250g, 500g and 1kg.
Meal Worms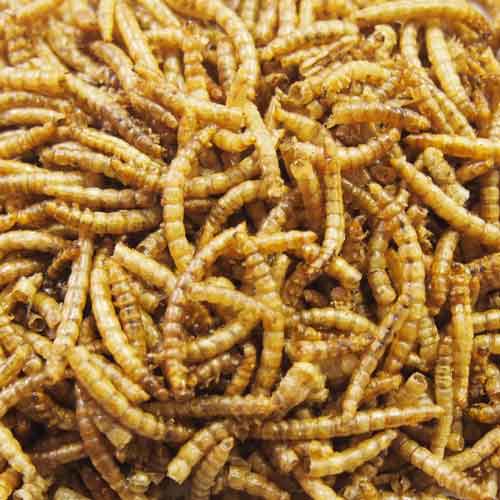 BEST SELLER
Dried and Live Mealworms are a favourite with the groundfeeders such as robins, blackbirds and thrushes, but other species will come to take their share as well.
Pack sizes:
Dried mealworms: weighed out, 500g, Live Mealworms: please ask
Suet Treats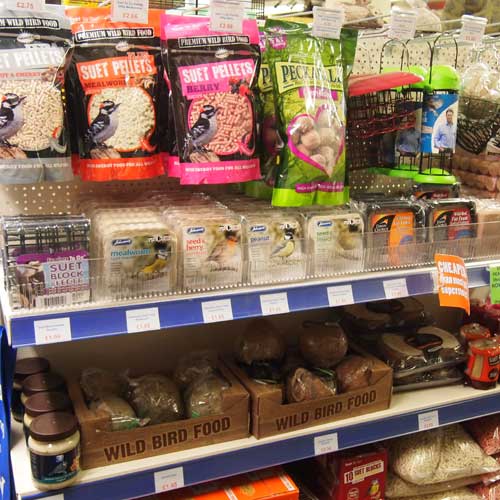 Suet blocks and pellets are available in different varieties including berry, meal worm, seed or squirrel resistant - all at low prices!



In addition to suet pellets we sell a wide range of suet treats for garden birds.

Fatballs: we only sell unetted fatballs (RSPB recommended to prevent birds becoming trapped), these are available in the following pack sizes 5, 10, 25, 50, 100 and 150. Giant fatballs are also available.
Suet Logs: these are available as a small candle sized to fit a special feeder(holds 3), or as a large 500g log which fits in a fatball feeder. Available as Berry and bug, Seed and insect.
Coconuts: half coconuts or whole coconuts filled with a suet mix. Ready to hang.
Bird feeders and bird boxes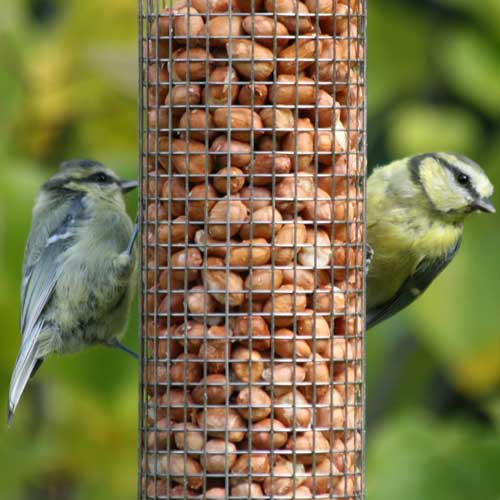 Bird feeders come in a variety of materials and sizes, depending on whether you are feeding, seed, nuts, or suet treats. If squirrels are regular visitors to your garden then you might prefer a squirrel proof or metal feeder. Window feeders are available if you like your wildlife close- up! If you don't have a convenient tree then choose from our selection of poles, and don't forget the old fashioned bird table.
If you want to bring Springwatch to your garden then make sure that you have a birdbox, you will enjoy the antics of fledglings, if you add a camera then you can watch the nest being built, eggs being laid, hatched and those little mouths being fed on your TV.
Great gift ideas!
Remember wildbird feeders and treats make a great present!! We can also make up hampers, just ask for more details.
Birds need water to drink and bathe- change it regularly and if it's cold don't forget to break the ice!
Wild Bird Offers for December
Expires on Sun, 31 Dec 2023

(Only 27 days remaining)
Posted by Robin, Bird
10 Fat Balls Usually £ 2.15 NOW ONLY £1.99
Bird Peanut Butter in a Jar Usually £3.31 NOW ONLY £2.99
Suet Log Feeder Usually £5.99 NOW ONLY £5.50
Dried Mealworms up to 499g Usually £2.50/100g NOW ONLY £2.30/100g
Dried Mealworms over 500g Usually £2.20/100g NOW ONLY £2.00/100g
Johnston &amp Jeff Suet Block Mealworm Usually £1.75 NOW ONLY £1.50
Johnston &amp Jeff Suet Block Berry Usually £1.75 NOW ONLY £1.50
---